The Lord appeared to Abraham by the oaks of Mamre, as he sat at the entrance of his tent in the heat of the day. He looked up and saw three men standing near him. When he saw them, he ran from the tent entrance to meet them, and bowed down to the ground. He said,'My lord, if I find favour with you, do not pass by your servant. Let a little water be brought, and wash your feet, and rest yourselves under the tree. Let me bring a little bread, that you may refresh yourselves, and after that you may pass on—since you have come to your servant.' So they said, 'Do as you have said.' And Abraham hastened into the tent to Sarah, and said, 'Make ready quickly three measures of choice flour, knead it, and make cakes.' Abraham ran to the herd, and took a calf, tender and good, and gave it to the servant, who hastened to prepare it. Then he took curds and milk and the calf that he had prepared, and set it before them; and he stood by them under the tree while they ate.

They said to him, 'Where is your wife Sarah?' And he said, 'There, in the tent.' Then one said, 'I will surely return to you in due season, and your wife Sarah shall have a son.' And Sarah was listening at the tent entrance behind him. Now Abraham and Sarah were old, advanced in age; it had ceased to be with Sarah after the manner of women. So Sarah laughed to herself, saying, 'After I have grown old, and my husband is old, shall I have pleasure?' The Lord said to Abraham,'Why did Sarah laugh, and say, "Shall I indeed bear a child, now that I am old?" Is anything too wonderful for the Lord? At the set time I will return to you, in due season, and Sarah shall have a son.' But Sarah denied, saying, 'I did not laugh'; for she was afraid. He said, 'Oh yes, you did laugh.'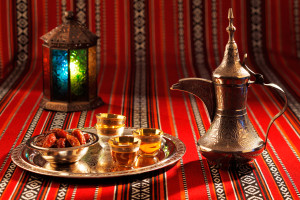 Hospitality. Abraham makes room for his three guests who come to his tent, whether travelling from afar of simply appearing as they walk up to Abraham's tent. We are not sure if the three guest were angels, God himself, perhaps in the form of the Trinity. Although this is all just sheer speculation and anachronistically reading Christian theology back into a Jewish texts.
What is of note in this passage is the act of hospitality. Abraham does not hesitate to offer his home and his best food for guest he knows not. Abraham does not know if these strangers who have appeared by his tent are important. He does not know if they are from another tribe, or perhaps includes princes or kings. Abraham simply offers hospitality to those that have come to him. He welcomes them into his home.
This is a powerful message. The early church would take this passage as significant in how we are to welcome strangers. And it will inform generations of hospitality providers in the church. Yet, that is getting very ahead of ourselves I think. In the course of the narrative that is unfolding on the pages in front of us and what we have read, Abraham is beginning to demonstrate the faith for which he will become famous.
It must have been an incredible act of faith to practice this kind of radical hospitality. No names, no introductions. Simply, here is my home, here is my food, you are welcome to share. And in the sharing Abraham and Sarah receive a message. That they will be rewarded for their faith and hospitality. They will have a son for nothing is impossible with God.
What would it look like if in Christian nations, blessed with such abundance, we were to share with the rest of the world and offer this kind of radical hospitality, and to develop and hold the same faith as Abraham: that in offering hospitality to strangers we too would be blessed by God?
Perhaps the thought makes you laugh as Sarah…