Now the whole earth had one language and the same words. And as they migrated from the east, they came upon a plain in the land of Shinar and settled there. And they said to one another, 'Come, let us make bricks, and burn them thoroughly.' And they had brick for stone, and bitumen for mortar. Then they said, 'Come, let us build ourselves a city, and a tower with its top in the heavens, and let us make a name for ourselves; otherwise we shall be scattered abroad upon the face of the whole earth.' The Lord came down to see the city and the tower, which mortals had built. And the Lord said, 'Look, they are one people, and they have all one language; and this is only the beginning of what they will do; nothing that they propose to do will now be impossible for them. Come, let us go down, and confuse their language there, so that they will not understand one another's speech.' So the Lord scattered them abroad from there over the face of all the earth, and they left off building the city. Therefore it was called Babel, because there the Lord confused the language of all the earth; and from there the Lord scattered them abroad over the face of all the earth.
Laziness sometimes has it's own rewards, rarely, but it does sometimes. Or maybe I should say distractions have their rewards. Either way, it has been far to long since I blogged about the bible. Work sometimes consumes one's life, and then the addition of study and class; moving and a cluster of other distractions and then you noticed you have fallen down on one of your commitments, to blog the bible.
Yet there are times when it is a benefit. Allow me to explain.
Today's passage is the story of the Tower of Babel. It comes from J's hand and is a mythological story to explain how and why people have different languages.
In this passage, Yahweh is one god among many. If you notice in verse 7, Yahweh says to the council of other gods, "Come, let us go down, and confuse their language there, so that they will not understand one another's speech." It was J's understanding that there were multiple gods throughout the world, yet Yahweh was the ruler, or king or lord of all the other gods; a trait very common throughout the Torah of J and an easy way to discern his penmanship.
I find this passage striking for many reasons, but one of the reasons is fear; fear that God displays about humanity and more specifically about humanity working together. "And the LORD said 'Look, they are one people, and they all have one language; and this is only the beginning of what they will do; nothing they propose will now be impossible for them."
Fear of humanity's potential drives God to confuse their language so that they no longer understand one another, and then God scatters them abroad, over the entire face of the earth.
While this passage is also the mythological explanation as to why there are many languages if we all descended from Adam and Eve, it also tells us a truth today. It is a truth that is present in any who have power and want to hold their power; they confuse first and then they divide. Machiavelli would be proud.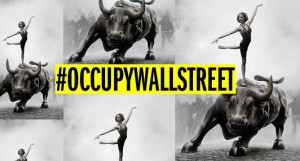 My distractions have allowed me to come back to this passage now, during the Occupy Wall Street protest that have grown to other cities and other countries, such as Canada, who is all set to begins its Occupy Bay Street protest this coming weekend.
Truly there is a subtle message in here about power dynamics between ruler and ruled. A message that when humanity comes together and unites under one voice, one language and works in unison there is nothing that is impossible.
The Arab Spring has lead to more open democracies in the Middle East, the Western Fall seems to be a time when we as a people are awakening from a long slumber to cast off the systems of oppression and domination that control our lives. For the West, the dictator is not an individual or an oppressive regime, but an economic system that rewards greed and a few people at the expense of the majority. A system that oppresses many and that has been growing in power.
Yet, this system like all tyrants can be confronted, but must be confronted jointly, together and as one voice. In doing so there is nothing that we, as the people of God, cannot do, nothing is impossible for us. But we must be vigilant. The system will attempt to confuse us; separate us into different focus groups and divide and scatter us.
This passage speaks about the mythological understanding of how many languages came to be. But it also speaks about humanity's potential, a potential that God himself saw and fears. What will we do with this potential?